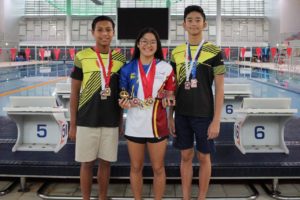 Three Augustinian swimmers showcased spectacular performances during this year's Hong Kong Mantas Swimming Competition held in the Hong Kong Sports Institute, Hong Kong. 
SAMANTHA THERESE CORONEL
GOLD:  100m Freestyle
GOLD:    100m Backstroke
GOLD:    50m Backstroke (New Hong Kong Mantas Record) 
SILVER:  100m Butterfly
SILVER:  50m Butterfly
BRONZE:  200m Individual Medley
3rd Highest Point Award
ESTIFANO JOSHUA T. RAMOS
GOLD:  50m backstroke 
SILVER: 100m backstroke
JOSHUA GABRIEL L. ANG
SILVER:  50m Butterfly
BRONZE:  100m Butterfly
The delegation representing the  CSA Varsity team and the Golden Sea Eagles Swim Club was led by Coach Doll de Guzman and Coach Kervin Oñate.  
Congratulations and Soar High Augustinians!